Traveling Solo is a thing that everyone should do at least once in a lifetime. Travelling solo can be a liberating or transformative experience as it allows you to discover your new inner self.
There are plenty of advantages of solo travel, like you explore new places, meeting new people, discovering yourself, you become more social, and learning to accept every situation in life.
But wait, travelling solo is not a piece of cake that you pick up and eat. It would help if you did proper planning before travelling solo. Otherwise, you may face many severe troubles and harm.
According to the report of Solotravelerworld, a travel search engine data shows that there is an increase of 36% in flight booking by solo travellers compared to last year.
Now you understand the popularity of solo travelling in the world. This article will discuss the best tips for solo travellers, how to travel solo, solo travel destinations, and much more.
---
How To Travel Solo and Why You Need To Travel Solo?
Travelling solo offers plenty of experiences, advantages, and unforgettable moments. Below are the benefits of solo travel and the answer to why you must travel solo.
Increased Confidence – While travelling solo, an individual must talk with strangers for many reasons, like finding the best stays, making new friends, or asking for directions. It improves your confidence, improves your social skills, and broader your reach.
Self-Discovery – The best part about solo travel is that it allows you to explore yourself more, gain a deeper understanding of yourself, personal growth, etc. It also helps you to find out your real purpose in your life, and it takes you away from the distractions of daily life.
Leave Your Comfort Zone – Traveling solo pushes you out of your comfort zones and gives you the courage to fight new challenges. It empowers your strengths, makes you strong physically and mentally, and motivates you to overcome your fears and traumas.
Freedom and Flexibility – Solo travel gives you freedom and flexibility. You choose your favourite destination, eat what you want to eat, do what you want, and don't need to compromise for others. You can live in your favourite spot for as long as possible.
Explore Varieties of Culture – While travelling solo, you meet many new people with different backgrounds and cultures. You have the freedom to know about their rituals, culture, local food, and local language, and you will get to know how big this world is.
Personal Growth – It is the best benefit of solo travel. Solo travel pushes you from your comfort zone and challenges you to adapt to a new culture, be more social, and solve problems independently. These things are the critical stage of personal growth.
Never Forgetable Memories – Solo travelling gives you memories you don't forget until your last breath. And whenever you remember your solo travelling experience, you must feel proud of yourself because you did that thing that most people only dream of.
Enhance Your Problem-Solving Skill – When travelling solo, you don't know which problem comes before you. And you are alone in solving that problem; that's why you need to take immediate action, and it is the way to enhance your brain and problem-solving skill.
Improve Social Skills – Solo travel pushes you to talk with locals, create new friends, explore a variety of cultures, and adapt to a new environment. Etc. When you do these things, your social skill will develop quickly because you want or do not need to do everything alone.
Self Refelction – The best advantage of solo travelling is getting time for yourself. Because you are far away from daily hustling and bustling, relax in the new place, listen to your inner voice, and feel what makes you happy, and you are so glad now.
---
18 Best Tips For Solo Travelers That You Should Follow: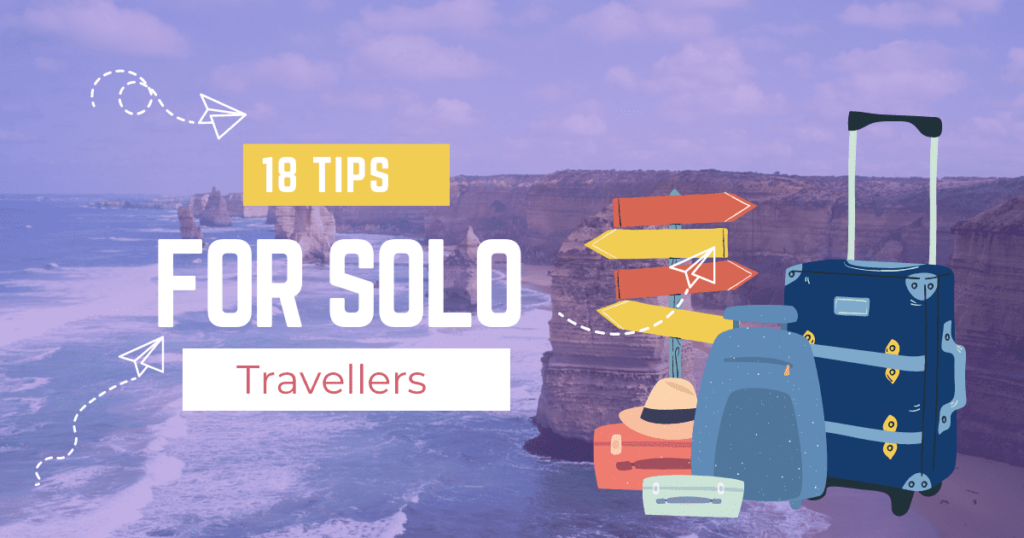 Pack Light – You are alone while travelling solo, so pack your luggage/bag light. Only add essential things to your bag, like a water bottle, light food, a map, safety equipment, and medicines.
Research Your Location – Before going to any location, learn about that area's culture, environment, safety measures, customs, visas (if required), and transport options.
Stay Connected – For safety measures, share your travel location, address, and hotel address with your family, friends, and loved ones. Always carry a handset with one local sim card on it.
Plan in Advance – Before going to any travel destination, it would be best to plan everything in advance. For example, book your stays in advance and create a list of the spots you will visit.
Take Care of Yourself – When you travel solo, you don't have any other person to take care of yourself, so you need to be healthy. Eat good food, sleep well, and take essential medicines with you every time.
Trust Your Intuition – Never ignore your intuition while travelling solo; if you have a gut feeling that something is going wrong, if you go there without any second thought, listen to your instinct.
Stay in Local Accommodations – To enjoy solo travel, consider staying in doms, hostels, guesthouses, and shared accommodations to make new friends and get memorable moments.
Download An Offline Map – If you are going to a destination where you know a network issue, like Himachal Pradesh, Uttarakhand, etc., always pre-download an offline map from the internet.
Join Group Activities -You are not the only one who has gone on solo travel; many people like you have come for solo travelling at the same place where you have gone., so try to join group activities, like trekking, camping, hiking, etc., to make new friends.
Respect Nature and Locals – You need to learn how to respect the nature and locals of the area you visit. If you travel solo, It doesn't mean you'll do what you want. Always follow the rules no matter where you are.
Use Technology – It is a time of technology where everybody is surrounded by tech. Don't forget to take help from technology; you should share your photos on social media and get tips from the internet on time.
Always Keep Your Important Documents – Remember, while travelling solo, there are chances that you need to show your identity, like in hotels, trekking areas, and while visiting this kind of place. Always carry copies of your document with you in a hidden pouch.
Try Local Dishes – Don't eat the regular food you eat at home daily; try the destination's local food, like in Manali; you can try Siddu; in Tamil Nadu, try Masal Dosa; and in Delhi, try everything.
Use Public Transport – If you are travelling by bus or you don't have your vehicle, instead of taxis and cabs, travel by bus to reach one point to another. Because the bus is cheap and you also get to meet locals.
Learn Local Phrases – Learning a little local language is among the best tips for solo travellers. It helps you feel more confident and allows you to bargain in shops, with cabs or buses, and when you buy something traditional.
Stay Hydrated – Don't forget to stay hydrated during travel because sometimes we include so much in activities and forget to take care of ourselves. Always carry a bottle with you and drink at least 3 litres of water daily, especially when travelling.
Take Breaks – Don't be so harsh on yourself while travelling solo. If you feel tired and need a break, do it. Take a one-day suspension and continue your journey the next day because a tired body doesn't enjoy it too much.
Trust Yourself and Have Fun – Don't overthink before coming on a solo trip; believe in yourself and land at your favourite spot. There is a saying which says, "better to make a mistake than regretting."
Now you understand why you need to travel solo and what are the best tips for solo travel, let's talk about our best locations for first-time travellers, female solo travellers, and all solo travellers.
---
What Are The Best Locations For Solo Traveling in India?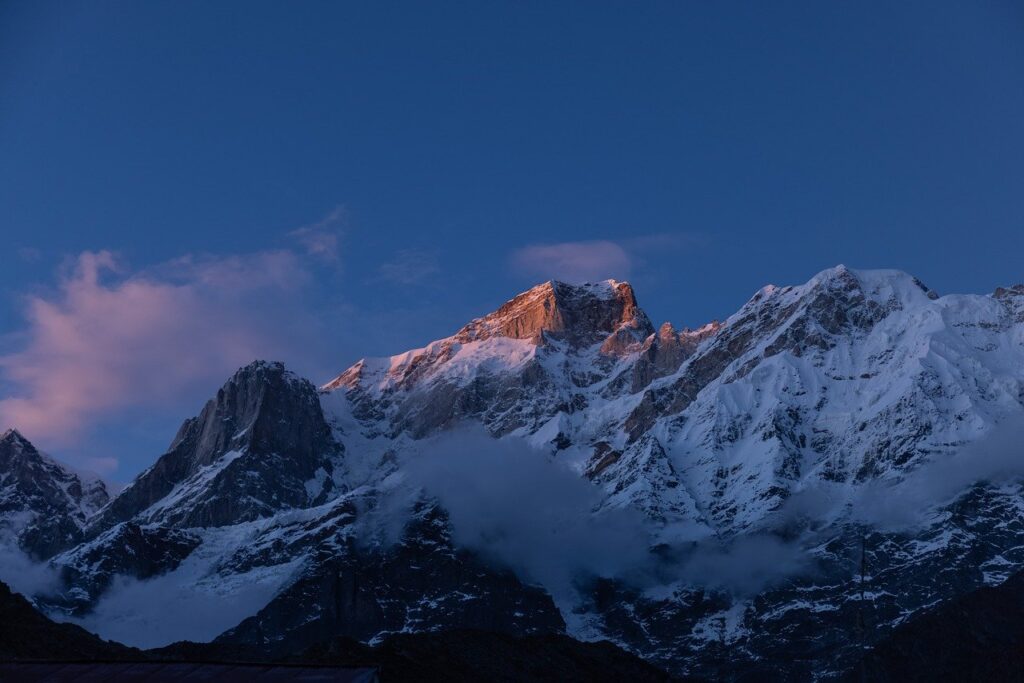 After beating China, India is the most populated Country in the World. India is a brand on its own, with millions of temples, historic landmarks, forests, lakes, palaces, and much more.
India has many places that are great for any solo traveller and first-time travellers. Some are Andhra Pradesh, Kolkata, Manali, Kerala, Shimla, Ladakh, Uttarakhand, Punjab, Rishikesh, Pondicherry, Chennai (among the best solo travel destinations in India), etc.
India has numerous spots to travel, but these are a few from where you can start your solo travel journey. The best about India is that India is considered among the safest countries for females to travel.
Suppose you are a foreigner or a person reading this article from outside India; consider travelling to India with a guide a good option because India is tough to understand, especially for foreigners.
Don't worry; below are the best places to visit outside India. Continue reading this content to learn about that places.
---
What Are The Best Places To Visit in Foreign Or Outside India?
When people start solo travelling, they have a strong urge to visit outside India, and that's fine. After exploring India, everyone visits foreign countries at least once.
But till yet, I don't know anyone who said they completed the exploration of India. But anyways, some best places to visit outside India for solo travellers are mentioned below.
New York City, Boston, Las Vegas, Florida, San Fransisco, Houston, Washington, Miami, Los Angeles, New Orleans, Georgia, Utah County, Chicago, Phoenix, Colorado, Wilmington, and Seattle (among the best solo travel destinations outside India).
The United States is a big country like India, and it also has millions of places to visit, but covering all the United States' best places to visit in a single article is impossible. Stay tuned to our blog to learn about the United States.
The United States is also a safe place for female solo travellers; it is much safer than India regarding female protection. Females don't need to worry about their safety; you can visit the U.S. without hesitation.
---
Is Solo Travel For Females Safe Or Not in India or Outside India?
The simple one-line answer is yes, solo travelling is safe for females in India or outside India. But it would best to take some precautions before going for a solo journey anywhere in the world.
What are those precautions? The abovementioned tips are the precautions a female must take much more than a man. But some other precautions apart from that are mentioned below.
Learn some self-defence techniques before going on a solo trip; always share your live location with your family, friends, or husband (if married), and avoid travelling at night if you want, then travel with the group.
These are some precautions for females; if you can consider these precautions, you are all set to explore this whole world by yourself. Pack your bag, book your tickets, and go to explore; the world is waiting for you.
---
Did You Know That You Can Also Make Money While Traveling?
Yes, that's true. Only a few people know that you can make a handsome amount of money while travelling and it is among the best benefits of solo travel or in the group. We have some great examples of people who can make money while travelling, like
Radhika Nomllers, Wanderlust Himani, Curly Tales, Ajay Sood, Devil On Wheels, and Isa Khan. These top travel influencers can make money while travelling the world for a long time.
I will make a complete guide on how you can make money while travelling the world, but for now, I can share some most popular ways so that from now onwards, your travelling journey make some cash for you.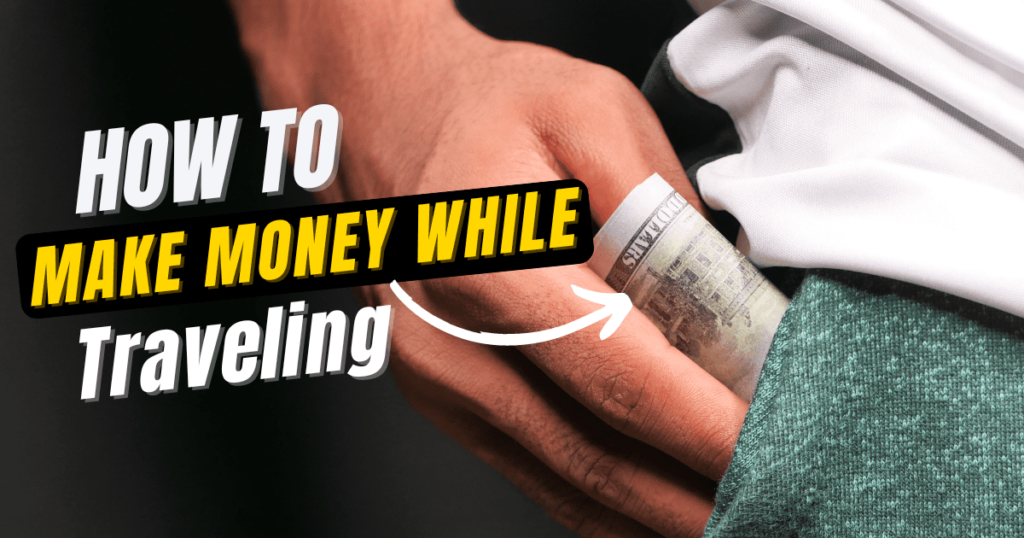 1. Start a Travel Blog
Starting a Blog and publishing your travel experience on that blog is the best way to make a while travelling the world. For example, currently, you are on a travel blog where people come to learn about travel locations, travel tips, etc.
And this blog makes money for me because I monetize my blog in many ways, like Ad networks, affiliate products, and sponsored products, by selling backlinks and ad space.
I know you don't understand what I am talking about, but for now, understand this concept of starting a travel blog, sharing your travel experience, and you are ready to make money.
Some free blogging platforms are Medium, Simily, Tumblr, etc. These are the best platforms to start your free travel blog and make money from. I will create detailed content on it, but for now, it is enough.
2. Start A YouTube Channel
YouTube is a thing that my audience relates to more than blogs. That's ok; starting a YouTube channel and publishing a travel blog is the most popular way to make while travelling.
We also have examples of some best travel vloggers, like Hey Nadine, Wolters World, The Planet D, Radhika Nomllers, Varun Vagish, Deepanshu Sangwan, Wanderlust Himani, and Mithileash Yadav.
These are the best travel vloggers in the world. All you need to do is create a free YouTube channel, start uploading your travel vlogs on it, and when your 4000 hours of watch time and 1000 subscribers are complete, you can make money from Ads.
Starting a YouTube channel is breezier than starting a blog, but both have benefits. Blogging is best for those who are shy to show their face, and YouTube is best for those who are good at speaking and not shy in front of the camera.
3. Become a Freelance Content Writer
One of the best ways to make money while travelling is by becoming a content writer, especially a travel content writer. Many platforms or travel agencies need persons who can write content for them.
Some of the best platforms that hire millions of travel content writers are Wanderlust, Lonely Planet, Trip Advisor, BackPacker, The Travel Magazine, Listverse, Verge Magazine, and GoNOMAD.
All you need to do is write your travel experience in written form and submit it to the platforms, as mentioned earlier. And they will pay you a considerable amount for writing every content.
Before blogging, I started my journey as a travel content writer from the mentioned platforms. The best part about being a content writer is that you can work from the mountains or on a cruise.
These are some ways from where you can start making money while travelling. It is only an overview; I write explicit content on these where I can share more than 15 ways to make money while travelling the world. So stay tuned with us.
---
What we Discussed In This Whole Solo Travel Guide?
We cover all the necessary things about travel, like how to travel solo, the best solo travel destinations, making money while travelling, is solo travel safe for females, the best tips for solo travellers, etc.
I created this solo travel guide with the core of my heart and, after doing a lot of research here and there, also shared my travel experience so that people who read this guide can relate more.
The idea behind creating this solo travel guide is to motivate people to leave their comfort zone and explore this vast world waiting for them with so many surprises, memories, and experiences.
---
Conclusion On How To Travel Solo and The Benefits Of Solo Travel
It's all about solo travel. Travelling solo is a must-do activity because it lets you know more about yourself and makes you more mature, confident, and responsible.
I guarantee any person who reads this article till here; they will never make a significant mistake while travelling solo and don't involve any serious trouble. And that's the real motive to write this guide.
If you will get interesting information here that you will never see on the internet, spread your love in the comments. And don't forget to share this solo travel guide with your near-dear ones.
Please continue to our blog for upcoming content, and in future; you will also see some essential travel accessories, more travel guides, more national and international locations, and much more.
"Thank You."
---
Frequently Asked Questions Regarding Why You Need To Travel Solo
Below are the top queries people ask about solo travel destinations, solo female travel, benefits of solo travel, etc.
How to travel solo for the first time?
1. Plan in advance
2. Cover nearby locations first
3. Pack light
How to travel solo as a woman?
1. Share your live location with family
2. Learn some defence techniques
3. Avoid travelling at night
Is it sad to travel solo?
No, travelling solo is exciting, adventures, and eye-opening. It depends on the people how they can see solo travellers. But it is the must thing to do.
What are the best first time solo travel destinations?
1. India
2. Dubai
3. Thailand
What are the benefits of solo travel?
1. Self Reflection
2. Boost Confidence
3. Enhance Social Skills
What are the best tips for solo travelers?
1. Pack light
2. Join group activities
3. Always stay in doms, hostels, and restrooms
4. Eat local dishes
5. Always download an offline map
What are the solo travel tips for introverts?
1. Book online hostels, hotels, and everything.
2. Travel from bus
3. Don't feel shy about making new friends
What are the must solo travel essentials?
1. First Aid Kit
2. Foldable Bag
3. Sleeping Bag
4. Pouch
5. Hiking/Trekking Shoes
What are the best solo travel destinations in India?
1. Punjab
2. Himachal Pradesh
3. South India
4. Uttarakhand
5. Jammu & Kashmir
What are the best solo travel destinations outside India?
1. New York City
2. Colorado
3. Boston
4. Las Vegas
5. Los Angeles